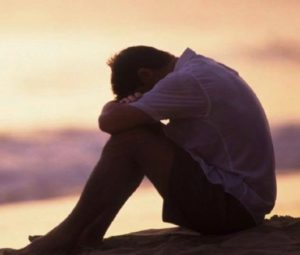 According to the WHO, 300 million people worldwide are affected by depression.  Depression comes at different levels and forms, and can come from physical illness, abuse, moving, death of a loved one and a variety of other reasons.
Psalms 42 reflects the struggles of depression.  In 42:5, the Psalmist as this question:  "Why are you cast down, O my soul?  and why are you in turmoil with me?" (vs. 5)  No answer is given.  Depression is often this way.  It's source can be very difficult to pin down why a person is depressed.
If you are depressed, find someone who will listen…really listen.  If you know someone who is depressed, listen to them.  It can take time to articulate what is going on in the depths of the soul.
Twice in Psalm 42, the Psalmist says offers the solution:  "Hope in God".  The remainder of this post will attempt to define what it means to hope in God and discuss what this means to a believer that is struggling with depression.
Hope in God
What does it mean to hope in God?  Hope is an expectation that something will happen.  Simply put, hope in God is your expectation that God will provide a way.  The good news is that He HAS provided a way.
Jesus Christ is the very embodiment of your hope (1 Timothy 1:1).  He is our living hope because God raised Him from the dead.  1 Peter 1:3:
"Blessed be the God and Father of our Lord Jesus Christ! According to his great mercy, he has caused us to be born again to a living hope through the resurrection of Jesus Christ from the dead"
This good news helps us lift our gaze from our problems and circumstances and on to the One who loves us and gave Himself for us.  He too was despised and rejected among men, a man of sorrows, acquainted with grief.
Μόνο ο Χριστός:  In Christ Alone
Christian, lift your eyes to the Christ, the One who bears your griefs, and carries your sorrows.
Other resources:
https://cdn.biblicalcounselingcenter.org/wp-content/uploads/2015/05/spiritually-rooted-depression-chart.pdf