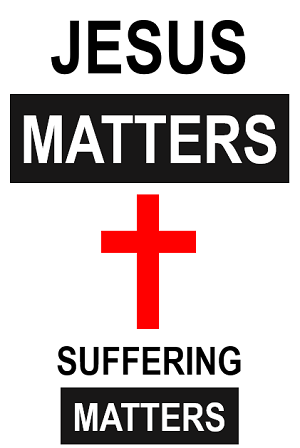 Do black lives "matter"?  John 3:16 is answer enough.  Selah.
But John 3:16 demonstrates something infinitely more "dope" than any particular cultural movement.  This verse reveals that ultimately, Jesus matters...the One who demonstrated that the pinnacle of the human condition is suffering to the glory of God.  Contrary to the culture of His day, the crowning achievement of the Messiah was suffering and death on a bloody Roman cross. 
With this in mind, the Black Lives Matter movement is fatally flawed.  It sees obtaining power in this life as an ultimate end.  It despises suffering to the point that it will inflict suffering on others in order to gain its demands.
In contrast, Jesus saw suffering and cross-bearing to the glory of God as the very hallmarks of genuine success.  Hebrews 12:2, Luke 24:25-27, Matthew 5:10-12, Ephesians 3:13, Colossians 1:24 & Romans 8:18-30 crush any notion that godly suffering is to be viewed as less valuable than or equal to the trinkets this fleeting life has to offer.  Whatever our lot in life, we are to find contentment in Christ. 
Martin Luther King Jr. said that "Those who are not looking for happiness are the most likely to find it, because those who are searching forget that the surest way to be happy is to seek happiness for others."  Jesus achieved the eternal happiness of others through His suffering.  He demonstrated that suffering ought to be viewed as infinitely valuable. 
1 Peter 6:9 is striking:
"In this you rejoice, though now for a little while, if necessary, you have been grieved by various trials, so that the tested genuineness of your faith—more precious than gold that perishes though it is tested by fire—may be found to result in praise and glory and honor at the revelation of Jesus Christ. Though you have not seen him, you love him. Though you do not now see him, you believe in him and rejoice with joy that is inexpressible and filled with glory, obtaining the outcome of your faith, the salvation of your souls."
While we ought to stand for justice in this world, it must be done so in a way that recognizes that Jesus will judge every deed and action.  It must be done in a way that focuses on our own personal responsibility before God, for each one of us will give an account for our lives one day.  Greed, hatred, rioting, and looting will ALL be judged one day.  Those that condone or continue in any of these sins stand in danger of eternal hellfire.  
I don't expect non-believers to understand what I've written here (1 Corinthians 1:18).  But for folks who say they believe in Jesus, this article is a challenge to stop thinking about race (Galatians 3:28) and begin seeing life through the eyes of the merciful Suffering Servant.