What Does it Mean to "Grow in Grace"?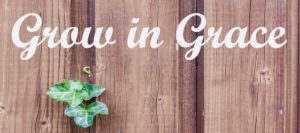 The standard definition of grace in evangelical Christianity is usually summed up with these two words:  "unmerited favor".  This is a really good definition, but I think it needs to be fleshed out a bit further.  More specifically, grace is God asking us to be with Him, helping us grow in our walk with him.
God walked in the garden with Adam and Eve, but sin destroyed this fellowship (Genesis 3:8).  Through the work of Christ Jesus (the second Adam), that fellowship is restored to those who receive Jesus as Savior and Lord (John 14:23, 1 John 1:3).
Several years ago a beautiful girl with golden hair accepted my hand in marriage.  Not long after, she asked me to go for a walk with her in Bennett Park in Liberty, Missouri.  I said yes.  I wanted to walk with her.  God shows favor to you by asking you to walk with Him.  This is grace.
In 2 Peter 3:18, Peter writes, "But grow in the grace and knowledge of our LORD and Savior Jesus Christ."
To grow in grace doesn't mean that we get more grace from God.  His grace is overflowing – see 1 Timothy 1:14.  We already have all the grace we need from Him.  He supplied all of the grace you needed to be saved (1 Timothy 1:13).  He supplies and extends all of the grace you need every day to walk with Him, 2 Corinthians 12:9 ("my grace is sufficient for you").
To grow in grace is to grow in our love of walking with Him.  It is letting Him draw you closer.  Growing in grace is
letting the knowledge of Jesus dwell in us through His Word:  Colossians 3:16 – "Let the message of Christ dwell among you richly as you teach and admonish one another with all wisdom through psalms, hymns, and songs from the Spirit, singing to God with gratitude in your hearts."
an increase in your love for Him.
an increase of faith in Him.
an increase of the fruit of the Spirit that He provides.
an increase of obedience to Him.

Jesus said that if we love Him, we will keep His commandments. Why does a Christian daily walk in grace?  Because we love Him.

We love Him, because He first loved us. I John 4:19
Jesus said, if you love me, you will keep my commands.  Jesus isn't wagging his finger at His disciples here.  He is merely stating a fact.  Christians obey Him because they love Him. They want to obey His commands.
To grow in grace is to walk with Him closer and closer.  It is growing in our understanding of His favor to you.
In grace, He extends His hand, and we take it.  In grace, He draws us closer.  Christian, will you let Him pull you in closer and transform you into His image?
2 Cor. 3:18  "And we all, with unveiled face, beholding the glory of the Lord,[a] are being transformed into the same image from one degree of glory to another."
Growing in grace means learning to love and enjoy your transformation into Christ's likeness, becoming more and more like Him then reflecting His grace to those around you.